Presents
AM BRONZE GCH/CAN CH Marquis The Phantom Menace, RN
"Yoda"

Yoda is a multiple AM/CAN Best Of Breed Winner, a CAN group placer, and AM multiple Group Placing Papillon
All before 2 years of age!
*YODA IS RANKED #14 IN BREED STATS & #16 IN ALL BREED STATS AKC 12/31/12*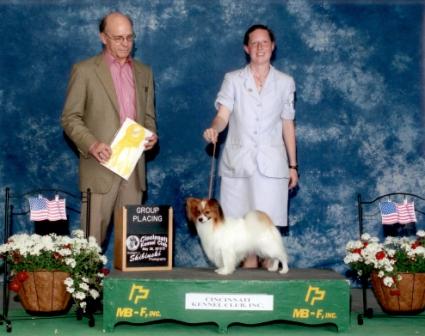 Yoda winning a Group 3 in Hamilton, OH over Memorial Day weekend 2012 under judge: D. Dowling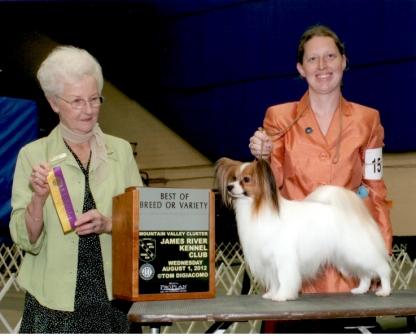 Yoda BOB under Paula Hartinger Aug. 2012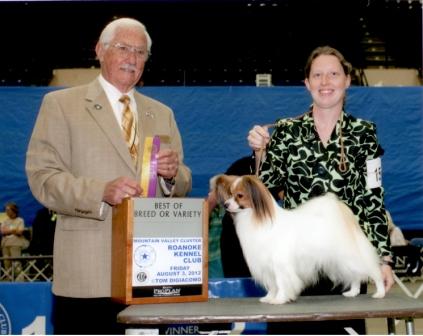 Yoda winning 1 of his 3 BOB wins in Salem, VA during Aug. 2012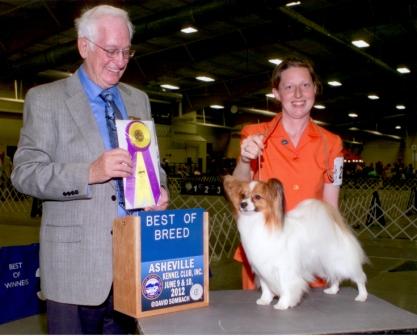 Yoda wins BOB Under Johnny Shoemaker to finish his Bronze GCH. Asheville KC June 2012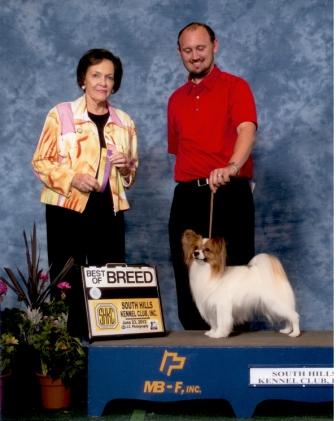 Yoda winning BOB at SHKC June 2012
Yoda is always owner handled!
Achievements:
*WD for 2 points and Puppy Group 2 first day out!!!!
*4/25/2009 At 6 months old Yoda won Best of Breed over the current #7 Papillon in the US and the 2007 #3 UKC Papillon!
*Yoda competed in 6 BOB puppy compeitions and won 5 of them!
*Yoda finished his American Championship on 11/14/2009 under David Kirkland during the Columbus Circuit supported by the Papillon Club of America!!!
* Leslie showed Yoda at the 134th annual Westminster Kennel Club Dog Show, February 2010. Yoda was the youngest Papillon shown at Westminster!
*Yoda wins his first group placement (group 2) April 30, 2010 behind the number two dog in the US and at only 19 months old!!!!!
*Yoda wins his 2nd group placement (group 2) May 21, 2010 under Canadian Judge: Lawrence Standbridge!
*Yoda finished his Canadian Championship on July 4,2010 with multiple BOB wins from the classes over specials. After finishing he was awarded with many more BOB wins and a group 3. He is Grand Champion Pointed in Canada as well!
*In October 2010 Yoda picked up his fourth group placement a group 4 under Stephen Hubbell in Cumberland, MD.
* Yoda finished his American GCH Title on 2/12/2011 (at 2 years old) by going BOS for a 4pt GCH major as Hoosier KC, Indianapolis, IN. Point total when he finished his GCH title was 35 GCH points. He just needed that last major to become a GCH!!!!
* On 6/10/2012 Yoda completed his Bronze GCH medallion under judge Johnny Shoemaker at Asheville KC. Thank you Mr. Shoemaker!!!
* Yoda wins both Three Rivers Papillon Club Supported entries in Aliquippa, PA October 2012!!!
Pedigree

Parents
GrandParents
GreatGrandParents
SIRE CH Marquis The Imortal

CH Gold Wing's Please, Please ME

CH Connection More Memories
Gold Wings Coloree De Coral
CH Marquis The Stroke of Midnight
CH Marquis Tuinluv By Request
CH Marquis Tuinluv Conjured Up

DAM

CH Marquis Lo and Behold

CH Loteki Marquis Zephyrus
CH Loteki The Winds Of Fortune
Marquis Tuinluv Magic Charm
CH Marquis The Witching Hour
Ch Sabamores Fire No More
CH Marquis The Stroke of Midnight